Keep your last mile delivery customers up to speed in real-time with automated notifications and on-demand package tracking
Last-mile deliveries are a critical link in every supply chain, bridging the gap between supplier and customer.
Ecommerce brands, local couriers, commercial distribution centers, restaurants, and local businesses depend on last-mile delivery to bring supplies, transport products, and keep their revenue flowing. Individual consumers count on last-mile delivery to bring them goods they purchase locally and online.
As consumers' use of home delivery services has increased, so has the pressure on carriers to deliver reliably and on time. But more than that, the pressure is on to provide a positive post-purchase experience — one that includes a frictionless delivery experience.
How well you meet and manage customers' delivery expectations influences how they view your brand and whether they'll shop with you in the future. Disruptions in the final leg of a package's journey can be costly in more ways than one.
Lost or stolen packages, missed drop-offs, and delayed deliveries increase the time your drivers spend on the road and the time your customer service representatives spend trying to make things right.
What do ecommerce customers do when they've had a bad delivery experience? 1
59% will call to complain

36% won't shop with that retailer again

29% will leave a negative review
Transparent, real-time communication throughout the last-mile enables you to avoid missteps, minimize negative outcomes, save costs and deliver a positive experience for your customers.
But, the only way to provide this level of visibility at scale is through automation. 53% percent of shippers responding to an industry survey said that tools providing real-time visibility to end customers were on their wish lists in 2021.
You can start using those tools today.
Join me as I take a closer look at what customers want and how you can use automated notifications and on-demand tracking to deliver.
Meeting and exceeding customer expectations in the new delivery-driven economy
In the past, consumers chose to shop online or order local goods for home delivery as one of several options. In the past 18 months, they began to choose delivery as their first and sometimes, the only option. I wrote about the impact this surge in delivery demand has had on our industry and whether it will last in December last year. Since then, demand has continued to grow.
Digital Commerce 360 reports that 2021 Q1 e-commerce sales were up 39% over Q1 2020 levels and online sales as a percentage of all retail sales rose by 4.7 points between 2019 and 2021.
As more and more consumers become accustomed to a delivery-driven economy, offering fast, affordable deliveries isn't enough to differentiate brands. Failing to reach beyond these minimum expectations means being left behind. More importantly, it means failing to deliver on customers' delivery expectations.
What do modern delivery customers want? More convenience. More information. More protection.
Last mile delivery customers want control of their schedules
Last-mile delivery customers want a choice of delivery dates and times so they can pick one that fits their schedule and lifestyle. Yet, nearly 40% of consumers said they sometimes wait at home for a delivery to arrive.
Sitting around waiting for your package to arrive is inconvenient and adds friction to their post-purchase journey.
With automated notifications, you can prevent your customers from wasting their time by providing regular status updates while their packages are en route and immediately notice if there's a delay. Empower them to see their package's progress for themselves with access to on-demand tracking and smooth away that friction.
Can you recover from a late delivery? 2
87% of e-commerce customers say that their shipping and delivery experience influences their choice of brands

96% of customers say that providing fast, honest updates about delivery problems can save a brand's reputation
Delivery customers want protection from germs and porch pirates
As more customers opt for contactless deliveries, ensuring that packages don't spoil or get stolen while sitting unattended is a growing concern. You can make sure your clients don't miss a drop-off with timely notifications sent via text or email. Give them the power to see exactly when it will arrive with access to a personalized, on-demand tracking page that updates in real-time.
When packages are damaged or stolen, consumers and retailers lose 3
43% of consumers in a 2020 survey had experienced delivery theft, and retailers bore the costs 81% of the time

48% of consumers said they didn't purchase an expensive item online during the 2020 holiday season because of their fear that it would be stolen
Ultimately, every delivery recipient wants to know, "Where is my order?"
"Where is my order?" a.k.a. WISMO. Whether they are expecting expensive electronics or tonight's dinner, your customers have this question on their minds until their parcel arrives at their doorstep, locker, or other destination of their choice.
Even when they aren't consciously aware of it, waiting for their package to arrive remains on their subconscious to-do list. When you answer proactively, you give your customers the reassurance they need to relax. Letting your delivery customers know when to expect your couriers makes it easier for them to collect signatures, check identification, or complete contactless deliveries, too.
Efficiency, convenience, security, and peace of mind — that's the formula for a positive delivery experience.
How can Routetitan's automated notification and real-time tracking system help you deliver customer satisfaction?
Routetitan's automated notification system enables you to easily send real-time delivery notifications to your customers using either email or SMS.
Each notification is event-triggered, and you can customize your notification template by adding selected data fields along with your own message. Once activated, the selected customers will receive an alert when the event, such as the start of their drivers' route or arrival at their stop, takes place.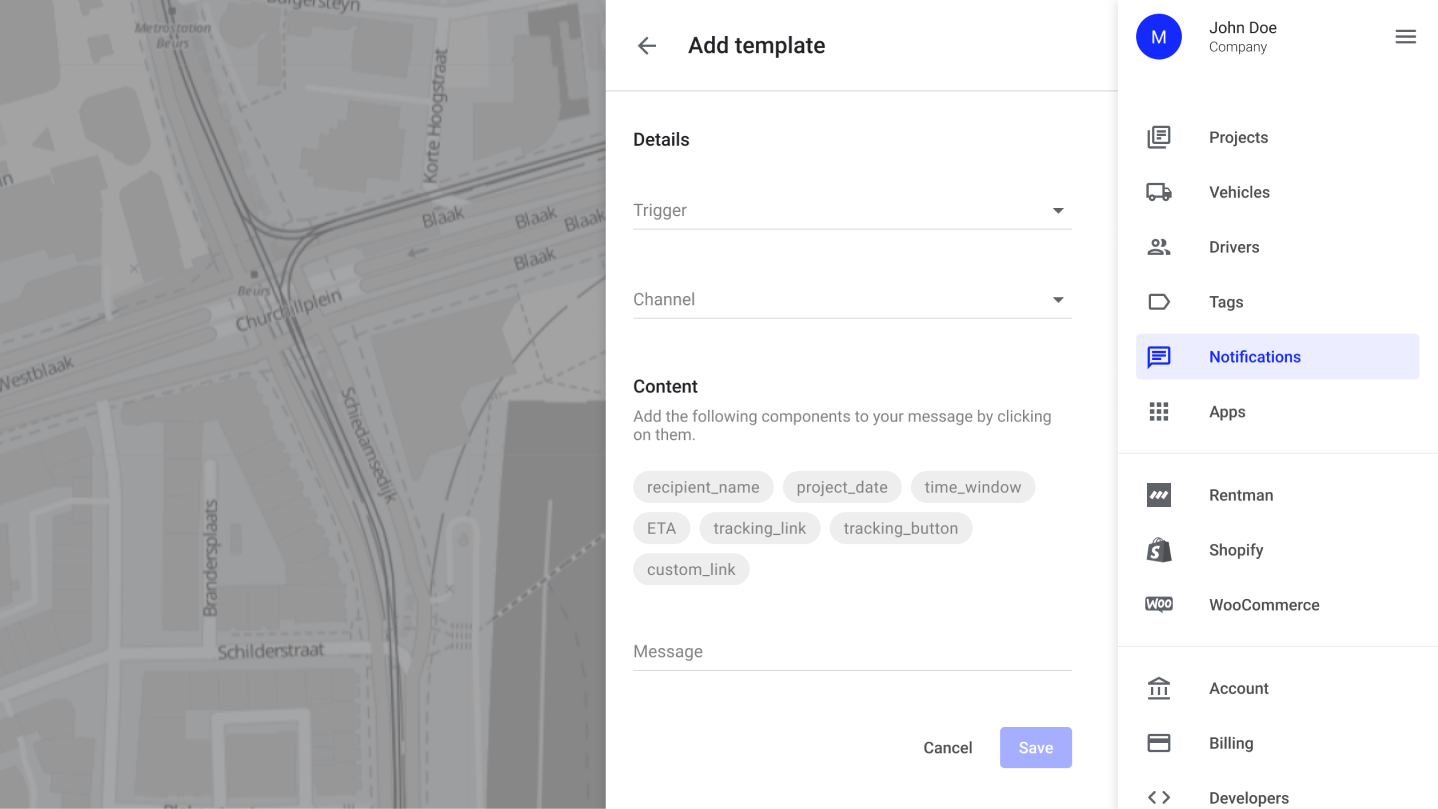 These customizable, automated messages enable you to send alerts to your delivery partners as well. You can create numerous different message templates using different event, channel and recipient combinations.
Our integrated track and trace program allows you to send each customer a distinct link that takes them to their package's status page.
46% of delivery customers expect shippers to provide on-demand access to delivery tracking updates as part of a positive delivery experience 4
What they see once they arrive on their tracking page is up to you. The page can be customized to show the driver's name, the vehicle location and an estimated delivery time or a delivery window.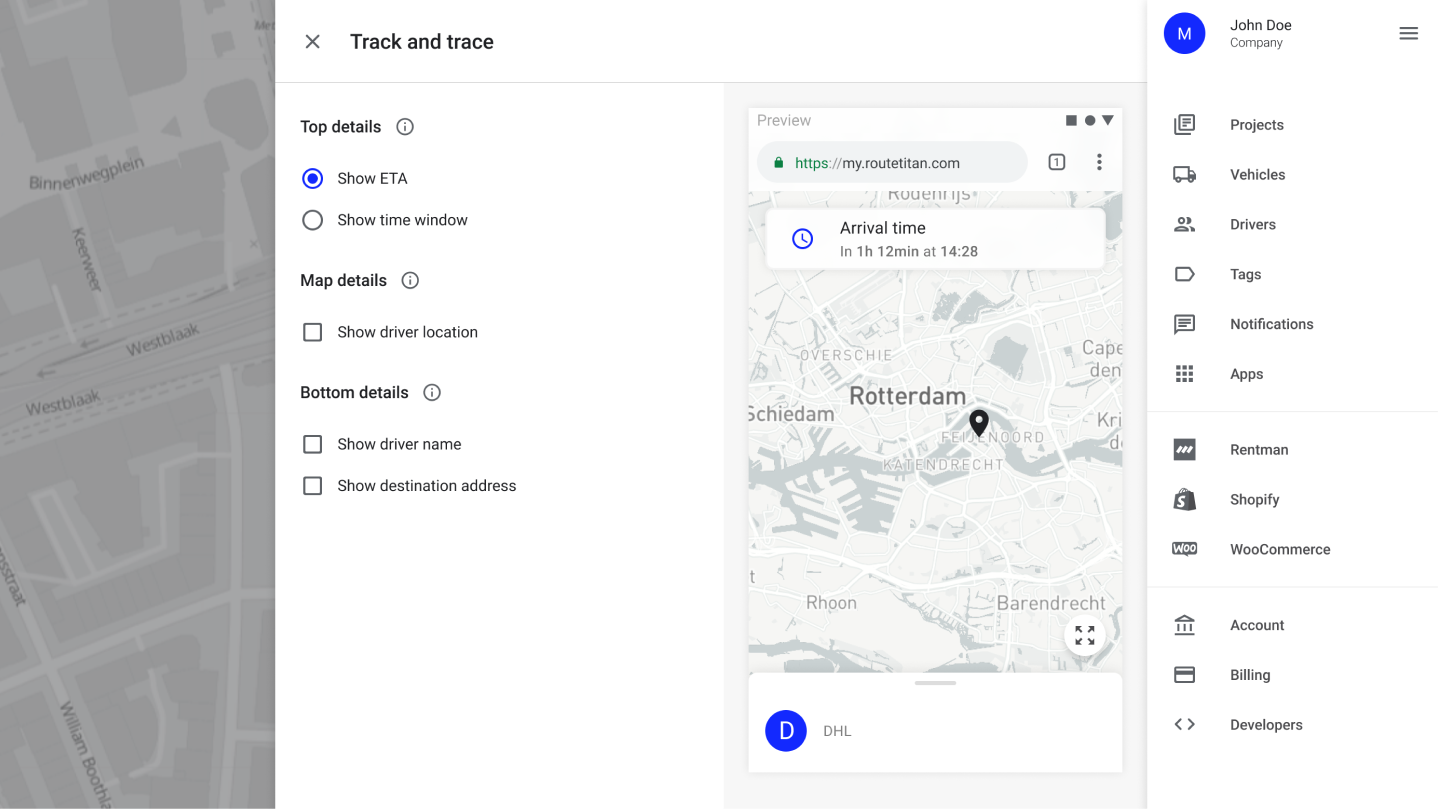 Which channel should you use to communicate with your customers?
Most end customers will enter an email when placing an online order. They may also be offered the option to add their mobile number. When you create your messages, you can choose either of these two channels.
SMS is fast but not always a customer favorite.
70% of consumers open text messages within 5 minutes after receipt5

61% of ecommerce customers said that email was their preferred delivery communication channel, while 17% said they preferred SMS 6
You also need to observe the laws of your delivery areas when collecting emails or mobile numbers from your customers. For emails, the US CAN-SPAM Act, Canada's Anti-Spam Legislation (CASL), and the EU's General Data Protection Regulation (GDPR) may apply. SMS messages are governed by CASL and the GDPR, as well as the Telephone Consumer Protection Act (TCPA) in the US. Most laws allow messages that are related to an existing transaction. But, it's always a good idea to check.
Put your customers in control with consumer-first technology for a delivery-driven economy
Remote commerce requires businesses and consumers to trust that their transaction partner will deliver as promised. Reliability and transparency are essential to gaining and keeping that trust. Earn your customers' trust and loyalty and empower them to find the answers they want by putting them in control of their last-mile delivery information stream.
Want to know how Routetitan can save you time and money with route planning that puts you in control? Sign up for your 14-day free trial today.