Providing visibility, accountability, and security in the last mile with electronic proof of delivery
Last-mile delivery demand is on the rise. In response to changing consumer behavior, retailers and other vendors have rapidly shifted to delivery models placing a strain on logistics and profitability. Third-party logistics providers are feeling the strain as well. For everyone in the supply chain, maintaining profitability while meeting customers' delivery expectations is an ongoing challenge.
Achieving efficiency in the last mile is particularly critical because last-mile delivery costs account for 41% of all supply chain costs. 1 Additionally, today's delivery customers are savvy consumers who expect reliability in exchange for the trust they place in merchants.
When a package goes missing, your customers and delivery partners want answers.
Was the package mistakenly marked as delivered but still sitting in a depot somewhere?

Was it delivered to the wrong address and kept or discarded by that recipient?

Was it stolen after the drop-off?

Was it delivered to the wrong on-site location?

Is there fraud involved on the part of someone in the chain of custody?
An electronic proof of delivery (e-POD) system gives you the tools you need to provide those answers. Implementing e-POD reduces your delivery costs while increasing your efficiency and providing your customers a positive post-purchase experience.
Why proof of delivery matters
Proof of delivery isn't a new concept. Senders and receivers have used proof of delivery as a means to verify the completion of a delivery for centuries. Traditional proof of delivery methods included requesting that an authorized representative of the receiver sign an acknowledgment when they took possession of a package or shipment.
This receipt from 1975 memorializes the receipt of 2 boxes of custom Christmas cards, delivered to Rice University.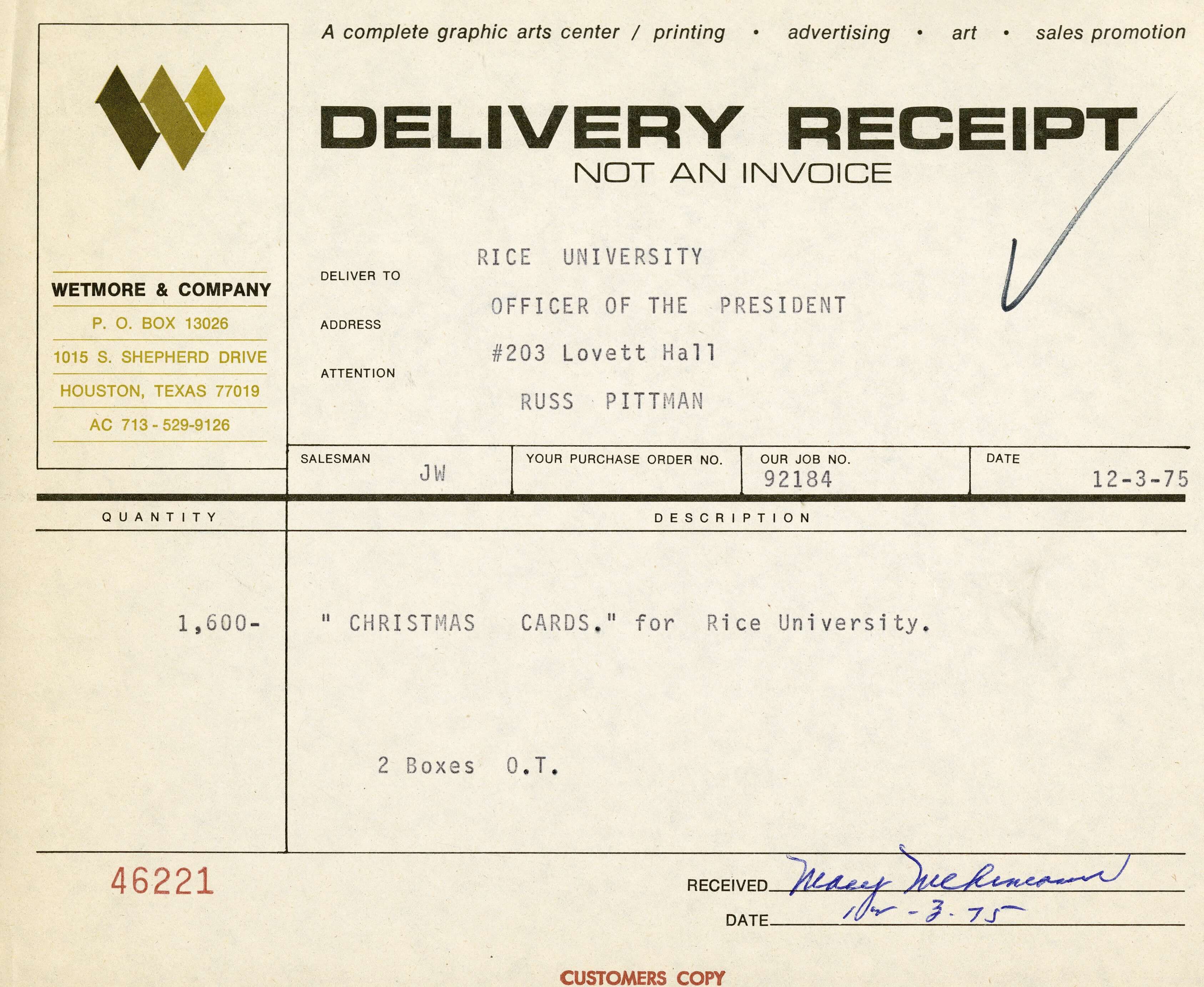 Often these proofs would include additional information such as the number of units received or their condition. This signed document could then be used as proof of performance by couriers requesting payment or to respond to a delivery failure claim or dispute.
Senders use proof of delivery to verify a delivery's completion and the transfer of responsibility for the package to the recipient. Recipients benefit from proof of delivery documentation as well. A signed receipt establishes a chain of custody within the organization and allows them to track when and in what condition an item arrived.
Signature-required proof of delivery helps prevent misdeliveries and theft
When the shipped items are expensive, easily damaged in transit, or the delivery is time- sensitive, requiring a signed handoff to an authorized recipient helps prevent expensive problems.
Senders or receivers may request that couriers collect a signature at the stop to ensure that packages are delivered to the correct location and protected from theft or damage. Signature-required proof of delivery is a necessity when important documents must be delivered by a specific date or to an authorized recipient.
No one wants their expensive audio equipment or certified check delivered to the wrong address or left sitting outside overnight!
What are the costs of failed deliveries?
Other forms of proof facilitate visibility and accountability
Of course, not every delivery gets a signature. Sometimes, a recipient doesn't want to or cannot be present to sign for a parcel. In those instances, a driver may sign a form indicating that delivery was completed or take a picture of the package at the delivery location.
These types of proofs may not have the same weight as an authorized signature. But, they can help you track down when and where a problem occurred in the last mile.
In a 2020 survey, more than 50% of consumers said they prefer to shop with retailers who offer safe delivery practices such as contactless delivery. 6 Photographic proof of delivery facilitates more secure contactless drop-offs. Plus, when it comes to disputes over a package's condition on arrival, a picture can lead to a quick resolution.
Traditional proof of delivery measures ensure end-to-end accountability for delivery providers and their customers and helps prevent theft and fraud. Electronic proof of delivery does even more.
Electronic proof of delivery does it better
E-POD provides the same protections as traditional methods while also allowing greater flexibility and access to information Using electronic proof of delivery methods you can improve customers' last-mile experience and your efficiency.
5 ways your delivery partners and customers benefit when you take your proof of delivery digital
Electronic documentation provides a secure way to collect and maintain documents. Unlike paper receipts that can be damaged or misplaced, your electronic documents are stored and backed up digitally. Drivers benefit from being able to use a single device to access all the necessary documentation to complete their deliveries instead of having to shuffle through a stack of documents at each stop.

Drivers can collect and distribute updates in real-time. Delivery managers don't have to wait for couriers to check in or bring paperwork back to the office to find out the status of a delivery. Information becomes available to all parties as soon as it is collected.

Staff no longer waste time entering data into multiple systems. When your proof of delivery is manual, someone has to enter it into your delivery management system. This process not only takes time but also increases your risk of human error. Delivery dates, unit numbers and other data can be corrupted with just one wrong keystroke. Avoid mistakes by entering the data once and let automation handle its distribution.

Everyone is kept in the loop with automatic, real-time notifications. Enhance your customer service for shipping partners and end customers by enabling automatic notifications triggered by the e-POD entry. Over 70% of consumers want to be able to track their parcels in real time. 7 By automating your processes, including delivery confirmation, you'll save time by fielding less "Where is my package?" phone calls and deliver a superior customer experience.

E-POD delivers scalability and flexibility that traditional systems can't match. Implementing an on-demand, digital proof of delivery system enables you to expand your fleet and share data across your organization without burdening back-office staff with extra paperwork. Instant updates enable you to send new instructions to drivers en route, reducing failed connections and send-agains.
Implementing e-POD is easy with Routetitan
Routitan's app comes with a built-in electronic delivery proof. Each stop gets customized instructions. Drivers can use their mobile devices to collect the recipient's signature and validate the recipient's identification or age. Signed signatures are immediately available in your delivery management dashboard and visible to recipients and senders.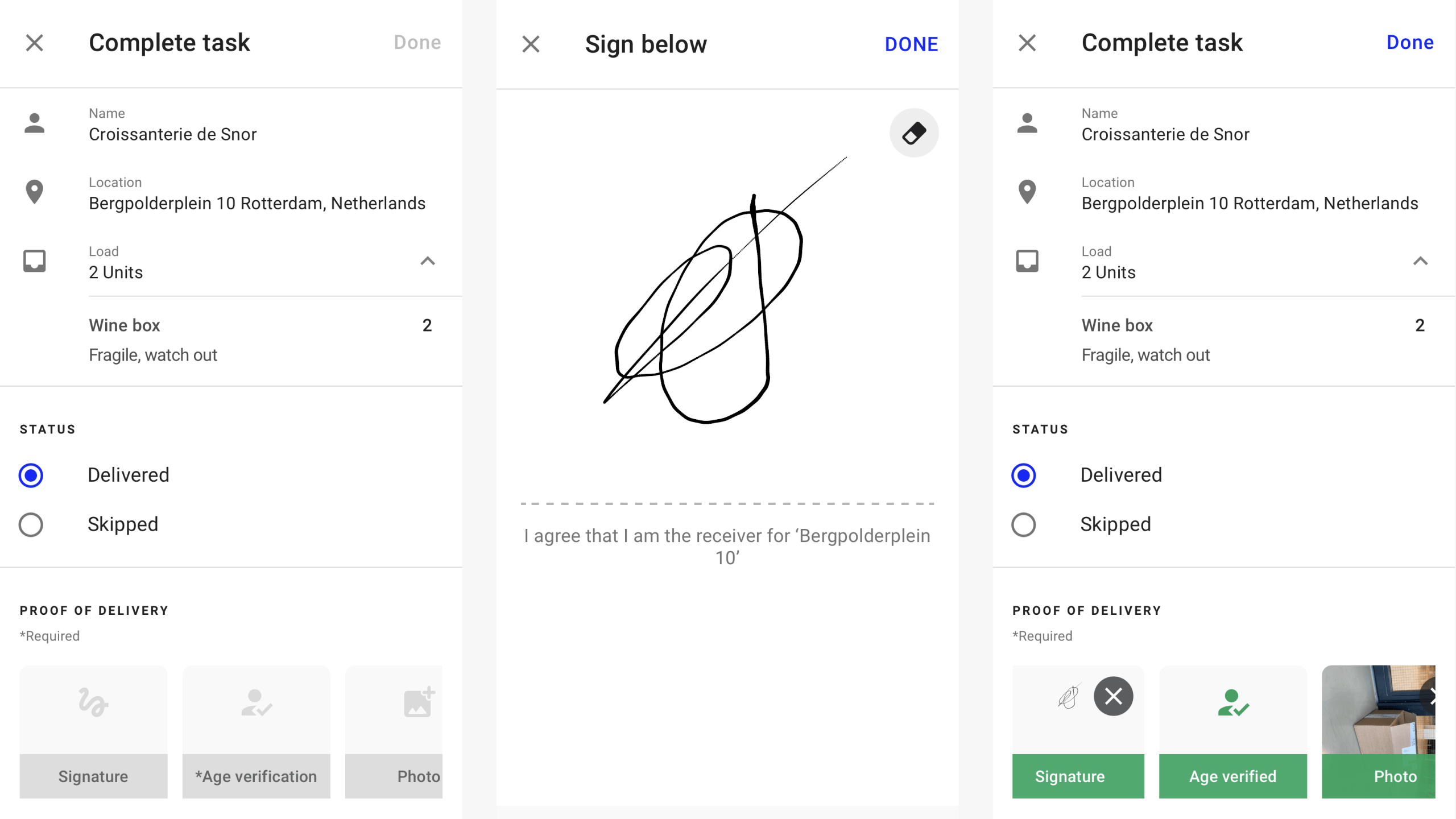 You can also have your drivers upload an image of a package on the spot when a delivery is completed to confirm that the item is delivered and to show its location. This feature can be especially helpful in situations when the receiver has requested the package be concealed or placed in a specific area.
If a recipient can't locate their package, customers can look at the picture to make sure the drop off was made at their address. If the photo shows that the package was delivered to the correct location, you'll both know that further investigation is needed!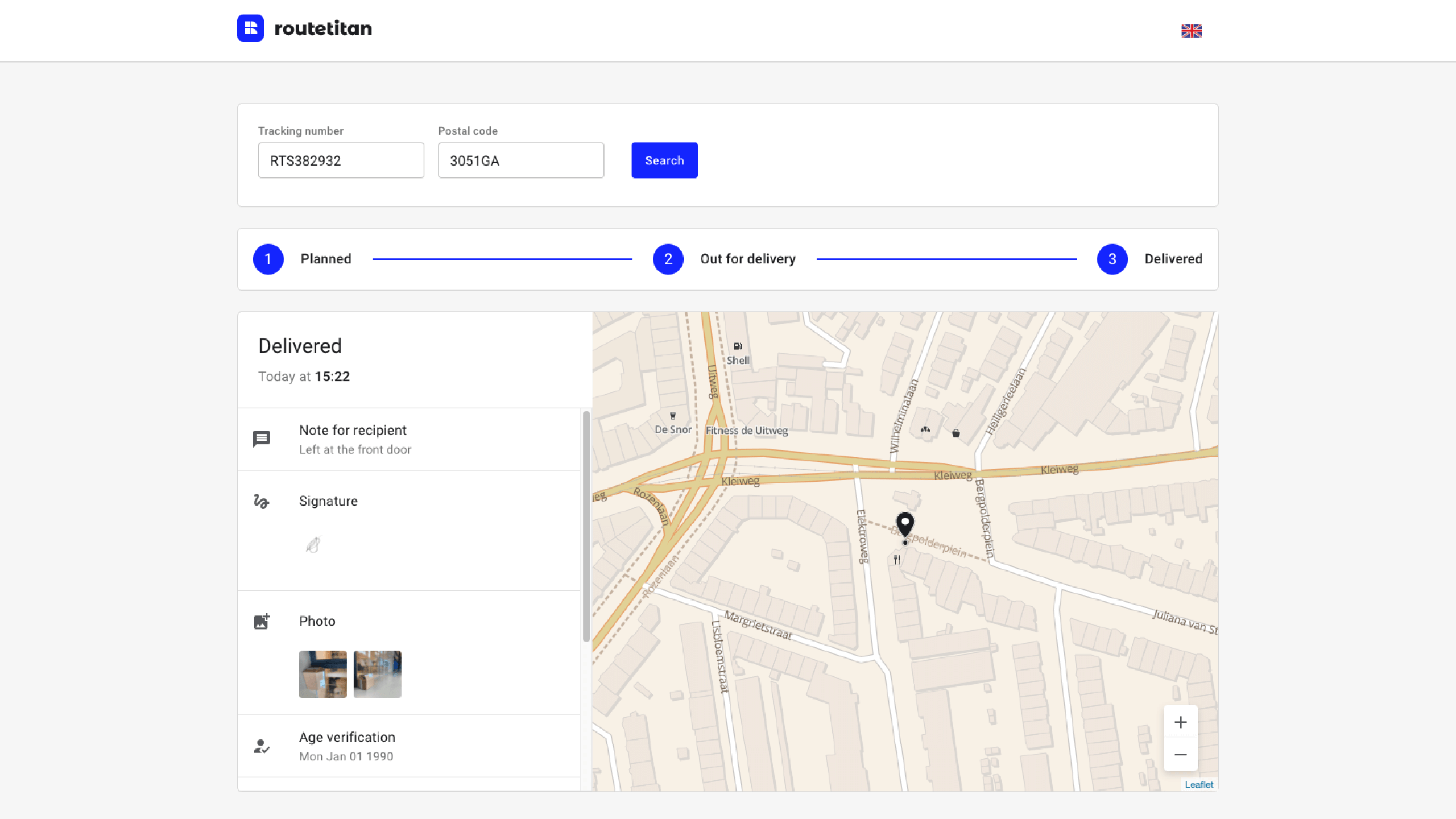 The delivery coordinates and timestamps are automatically attached to both signature and photo proofs for complete, automated record-keeping.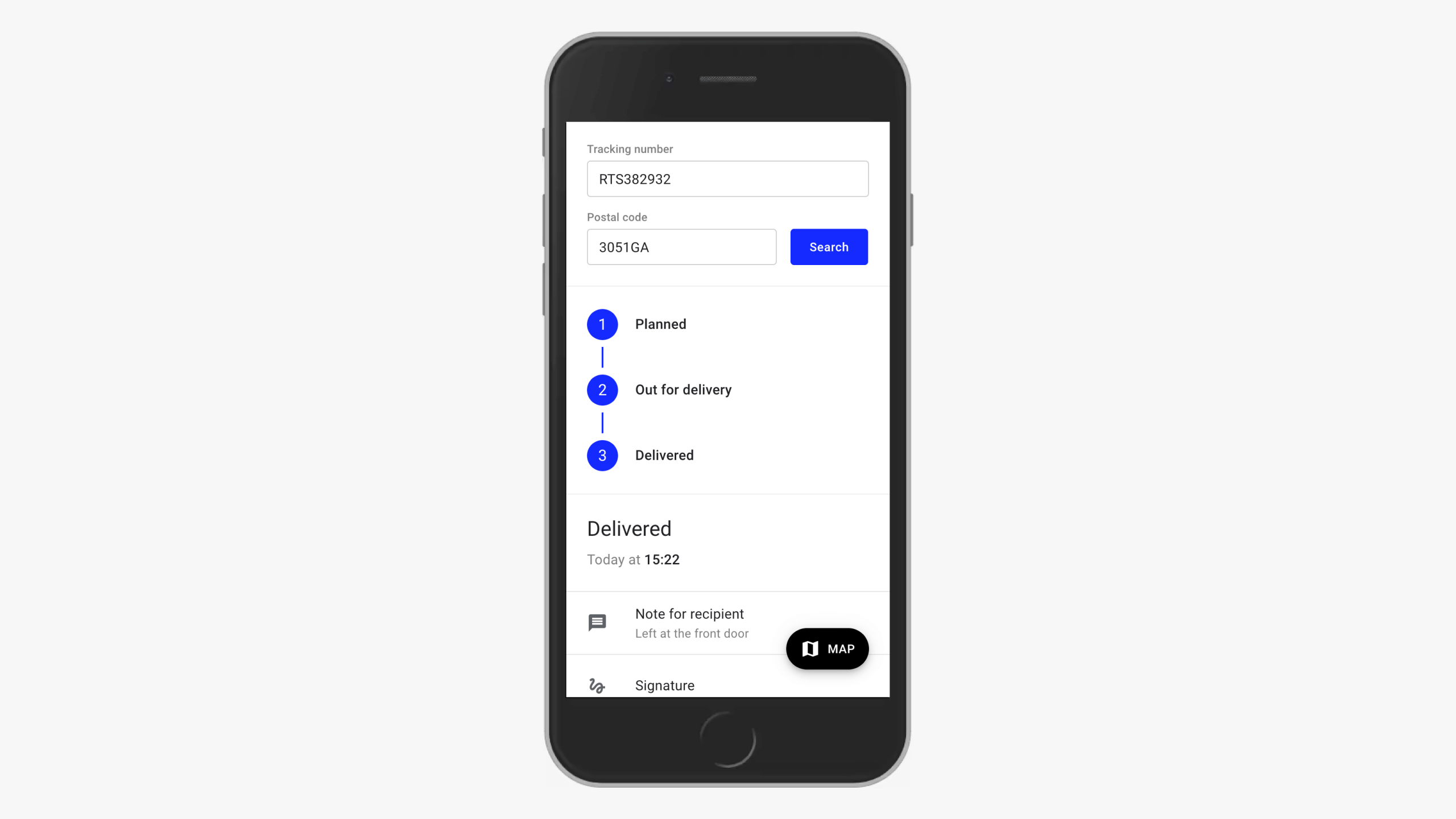 Everyone is assured of their delivered products and services thanks to electronic proof of delivery. By using Routetitan's delivery management and routing app, you can deliver above and beyond your customers' expectations while saving time and money. Contact us to get started today!